It's time for Extreme Makeover: Me Edition. It's just a fun way to share the ups and downs of weight-loss with friends who have or have had similar trials. If you want to join the fun, just click here to see the details on Amber's site.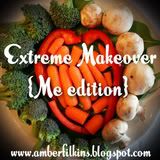 This week the question is:
"What do you drink when you're trying to lose weight? We all know we're supposed to drink a lot of water, but how do you spice it up?"
The boring truth is that I drink water…just plain old water. No bubbles, flavors, etc. I know some people prefer to add things to disguise the taste, but I don't do that. I prefer to drink it plain. I guess I'm just old school like that.
My progress has been steady since I started trying to lose weight so I'm feeling really good. I hope to reach another milestone tomorrow.
I've been riding my bike for at least 45 minutes everyday, but some days (like yesterday) I rode for an hour. I also go to the gym regularly so between exercise and healthy eating, I'm feeling great!
I hope everyone else is doing well too! Let's go "All The Weigh!" (Yeah, I know…I'm cheesy.)