This week, Connie from The Young and the Relentless came up with the topic for EM:ME. And she wants to know what's in my fridge and how healthy it is. She even wants to see pictures so I'll post a few.
If you want to share too, just head over to Amber's
blog
for the details.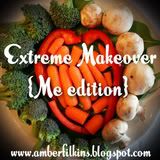 What's in my Fridge? And how healthy is it?!
I need to do some grocery shopping, but I tend to do it a couple times a week because I change my mind fairly often. 😉 First, I'll show you a picture of the kitchen, at least part of it…just because.
Now, lets check out what's inside…
I eat yogurt pretty regularly, and I drink Slimfast pretty often because each serving has 10 g of protein and 5 g of fiber.
Did you know that we're supposed to consume 25 to 30 grams of fiber everyday?
It's pretty easy thanks to Fiber One. I'm not sure if it's visible, but there's some Fiber One pancake mix in there..not to mention the variety of F.O. bars, pop tarts and cereals in my cabinets. 🙂 There's also a couple boxes of whole grain pasta because it's important to eat whole grains. It's also more filling, and it tastes just as good.
Tonight the peppers and onions will be put on the grill so I can add them to my egg whites when I'm eating them in the mornings or after a workout. You get the idea, right? And yogurt is great with fresh fruit. Now I realize I'm running low on that too…
I also have fresh tomatoes, red potatoes (that I plan to roast later this week) and other veggies because veggies are good — and good for us. 🙂
The milk is lonely because I plan to buy a few things like…eggs, chicken breast and shrimp after I work out at the gym.
I have a lot of water because it's all I drink. Sometimes I like it room temperature, but I also like it cold when I'm drinking it with a meal.
It might also be obvious that I love oranges. I love watermelon, cantaloupe and cucumbers as well. Cucumbers are 0 points per serving on WW. Awesome, right?
Now let's see what everyone else has in their fridge…!