It's time for Extreme Makeover: Me Edition! If you'd like to join the fun please take a few minutes to check out Amber's blog.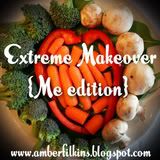 This week's question is about support systems.
"Who is your biggest supporter/motivator in your weight loss? Do you have anyone around you that tries to sabotage you by "talking" you in to eating the not so good stuff?"
I'm surrounded by people who are totally supportive of my efforts. My parents live far away, but I call them both each week after my weigh-ins. And I have several friends who are totally supportive, some of whom are trying to reach goals that a similar to mine. And they're awesome to listen to be ramble on about points, exercise and everything else involved in this process.
I've got no time for people who would try to stand in my way as I lose, nor would I be friends with someone like that anyway. There's no reason any of us should have to deal with something like that. And that's just one reason why I believe we should be around people who lift us up, who make us smile, etc. And we should leave those who are negative and sad to deal with themselves. hehe
The only negative feedback I've received was not meant to be negative on purpose. One week, I only lost half of a pound, and someone said to me "Oh, I thought you'd lose more." Come on! I'm happy to say I lose a few pounds most week, but it can't be expected to happen every single week, right? So when that person commented, I quickly told them what I told you, and reminded them that I plan to focus on the positive so they should too. Since then it's been excellent.
When my boyfriend hugged me a few nights ago ( I love big hugs) he said "Wow, look at how much farther my arms wrap around you." He's so positive and uplifting all the time. I laughed him off then he hugged me again, and I realized he was completely right! I am a bit smaller than I was. My jeans prove it too! 🙂
Anyway, the most important thing to me is knowing that I can do it because losing weight isn't easy. And most people don't really believe you can do it until it's been done. I'm utterly appreciative of each person who supports me here on my blog too. I can't tell you how much it means when I get a comment about how I've inspired someone else. It's priceless to me!
Now tell me about your support system, and remember that if you have a question or need some encouragement, I'm here. And you're welcome to send me a message (at the bottom of this page) anytime!