This week Amber asks how we feel about our progress.  If you'd like to join some outstanding people in being accountable each week just click here for the details.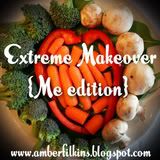 I've experienced tremendous success since I began my journey to shed pounds, but I still have a long road ahead.  And this has been my toughest week so far because an old friend is in town. 
It has been difficult, but I have still managed to exercise though not as much as usual.  I have not over eaten much though I definitely haven't had the amount of fruits and veggies I have when I'm in my regular routine.  And I haven't done any weight training in almost a week.  
I knew that I would have to adjust my schedule, and I knew that I'd eat some things that I wouldn't normally eat.  But aside from the increase in sodium, I've made (mostly) good choices, and I hope it shows when I step on the scale tomorrow. 🙂  Either way, I will press on and continue feeling good about the positive things I'm doing for my body.