Can you believe how quickly the week is passing?! It's time for Extreme Makeover: Me Edition. If you want to join the fun, head over to Amber's blog to check out the details.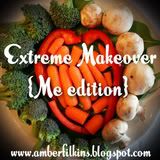 This week,  Amber's weekly question is:

What inspires you? 
I know it sounds a little silly, but I just imagine myself looking how I want to look and feel.  When I'm tempted to eat something that I shouldn't I just remind myself how much better I'll feel when the craving passes because I didn't give in…

There's nothing wrong with having what we want from time to time, but it's okay to say no to myself sometimes too, especially if it means I'll be better off in the long run.

 The thought of looking in the mirror and liking what I see is all the inspiration I need.  But I enjoy having a support system at home and in the blogosphere too because I've met so many who understand me.  And your lives inspire me too. 
My next weigh-in is tomorrow, and I hope it's a good one.  I've eaten well this week and also sent a good deal of time on my recumbent bike.  I've rocked the Weight Watchers Vegetable Challenge just as I had planned, and I've been to the gym.  
I look forward to learning what inspires others so join the fun at Amber's blog, but only if you want to meet some nice people who are totally supportive. 😉