It's time for Extreme Makeover: Me Edition, and this week the topic is Weight Watchers. Is this a great topic for me or what? 🙂 
If you want to take part in EM:ME, just click
here
for details then share your thoughts on the topic.  And don't forget to update your progress too.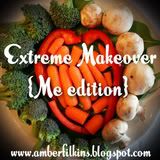 Now on to the topic…
Weight Watchers

I have been a member of Weight Watchers for 16 weeks (almost 17 now,) and I've lost 36.2 pounds so far.  I have enjoyed the meetings immensely because I usually leave feeling recharged.  And I have met so many people at my particular meeting that I now call friends. 
Being on vacation means I will miss my meeting this week so I attended one here last night.  I'll blog about it tomorrow, but for now, I will just say that going yesterday makes me so grateful to be a part of such a tremendous meeting on a regular basis.  
Weight Watchers has been an excellent tool for me so far because I've learned to control my portions.  I am aware of how much I should be eating in order to lose weight, and it is working. But I also exercise everyday.  If you know me, you know I'm on my exercise bike  a lot.  (I cannot express how much I miss it this week!)  And I've also started learning about the kinds of foods I should be eating.  
Each of us has to make a decision to lose weight on our own, but having unwavering support and accountability every Thursday has made it much easier for me.  And that's why I would recommend it to anyone trying to lose weight.  But I also recommend that you take time to find a group that works for you, and a leader who is sensitive and sincere.  Good people make good meetings, and it has made a big difference in my life in the last 16 weeks. 
As I've mentioned (as many times as possible) I'm on vacation this week.  And it's been a lot of fun though I am definitely looking forward to getting back home — and back into my routine.  Friends and I are staying in a beach house all week, on an island with beaches, fudge, burgers and tons of other junk food.  
I've made decent choices for the most part.  I brought some of my own foods and picked up an egg poacher yesterday because I can't stand using pots and pans that have been used by countless others.  Does that make me weird?! 
Yesterday, in addition to eating 5 servings of fruits and veggies, I ate a bacon cheese burger with fries and onion rings.  I ate half of each side, as I planned to on the day I ate at the burger joint.  And it was fantastic!  It settled a craving for fattening yet delicious foods (that I haven't eaten in months.)  Oh, by the way, I had two slices of pizza for dinner too.  Um, this was officially the worst eating I've done in weeks, but I make no excuses for it.  It was delicious, and now it's over.  I'll eat egg whites and veggies for breakfast then follow up with healthy lunches and dinners just as I have been.  And I'll continue to walk and be active in the water and on the beach.  
I think it's okay – even necessary to enjoy what you want (even if it's unhealthy) once in a while which is why I love WW.  I am able to count points (even for a burger and onions rings.) And for that reason, I believe I have made healthy changes that will last a lifetime.