This week, Amber wants to know how our schedules change when Summer ends and Fall begins.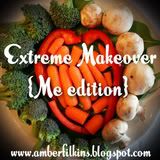 Though I don't have kids to send back to school, my schedule does change a little in the fall. Next year will be a big election year so if you know me, you know that work will get busier for me as a result.
The biggest change for me is that I plan to stay home for the next few months at least (except a short trip to the Bahamas.) It will be easier to eat well and exercise because I get into a groove when I'm home. Over the last couple weeks, while I was away, I managed to exercise some days, but eating well was much, much harder. And it wasn't hard because I was in the mood to eat junk so much as it was beyond difficult to find healthy options there. I did not over eat, but I didn't eat as many fruits and veggies, lean protein and whole grains as usual.
I am so excited to rejoin my weekly Weight Watchers meeting tomorrow night. I think I'm part of the best group of people ever, and I've missed being there the last couple of Thursdays. Whatever the scale says, I'm happy to be back into full swing so I'll just keep moving forward.
Do you find it harder to maintain a healthy lifestyle during certain seasons or while on vacation? Or do you have 'secrets' that help you when you're out of your regular routine?
If you'd like to join some lovely ladies in supporting each other on our journeys then head over to Amber's blog to check out the details.