This week, on EM:ME, Amber wants to know our "secrets."  If you want to join some lovely ladies in supporting each other as we answer weekly questions and update each other on our progress, just click here for the details.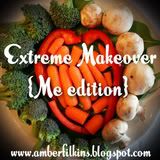 Here's today's question: 
What is one of your favorite dieting secrets? 
(I know it's a lifestyle not a diet, but you get the jist.)
I suppose if I had a dieting secret it would be to avoid eating a lot of sodium for 2 days before stepping on the scale.  Each of us should have no more than 2400 mg per day, and I am diligent in following this guideline because I do NOT like retaining excess fluids.  (Gross, I know…but it's true.)  
So, for example, if I want to eat Chinese food, I am careful to watch my sodium intake throughout the rest of the day.  I drink more water and  do my best to work up a big sweat at the gym and at home. 
I track everything I am eating.  Even if I eat a piece of cake, I figure out the points before it goes into my mouth.  I cannot express how much this helps me.  It's amazing how much I ate without realizing it, and now that I write it down I eat only as much as I should. While it can be tedious and a little time consuming at first, keeping a food/exercise journal has been fantastic for me.  
Today was a fantastic workout day — the best one I've had since before I went out of a couple weeks ago.  Though I felt sluggish this morning I perked up as soon as I half way through my 6th set at the gym.  Then I came home and went for a long, brisk walk with my dog followed by my daily recumbent bike routine.  
Though I was definitely down for a couple of days this week and a couple last week, I'm feeling much better and totally energized.  
I also hit a big milestone last week.  While I was away on vacation, I lost 7.5 pounds which means I have now lost more than 10% of my entire body weight. I've actually lost over 40 pound which is pretty exciting! 
I'm looking forward to hearing everyone else's secrets. 😉  And I wish all of you a super Wednesday.