Time feels as though it has been flying for me in the last few weeks so I can't believe it's already time for EM:ME. And while the topic is not geared towards me today, I plan to answer anyway.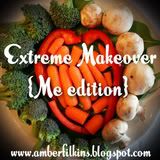 This week, Amber asks,
"How are you being a healthy role model for your children?"
This topic is moot because I don't have children. But the truth is that one (of many) reasons I've chosen to live a healthy lifestyle is because I want to be prepared for the future and the possibility that I will have a family.
When I started law school I wasn't really interested in having children, and the more people talked about it the less interested I became. And I still don't have an overwhelming desire to have children now, but it does come to mind from time to time. And the hard truth is that I would not have a child now.
If I did, I would likely have a terribly hard pregnancy and worse, I'd be the mommy who is too heavy to ride down the slide with my baby. And I will NOT be that person. I know beautiful women who do it, but I would not be happy that way.
Luckily for me, I'm not married yet either. I do see that happening in the not-so-distant future though so it's nice to know that my weight won't keep me from starting a family if the time becomes right. 🙂
Progress continues to be steady, and as always, I hop you'll wish me luck on my weigh-in tomorrow. Last week I lost over 4 pounds. If only I could lose that much every week. ::sigh::
I have been on my exercise bike a lot again this week, and I hope to see the fruits of my labor tomorrow.  Speaking of fruits…I have been lazy about eating fruits and veggies in the last few weeks. I usually eat about 9 servings per day, but I have not come close to that lately so I will step it up starting now.
Now I would like to know how everyone else is doing. If you'd like to join a group of supportive and beautiful women on our journeys into better health, just click
here
.
Have a happy Wednesday friends!