This week's topic is The Biggest Loser, and while I haven't seen it yet I look forward to watching it this season.  Episodes are piling up on the DVR so I'm sure I'll watch them when I return home.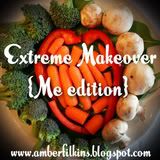 Do you watch The Biggest Loser?  And if so, what do you like/dislike about it?  If you want to take part in EM:ME, just head over to Amber's blog for details.  
My progress this week has been decent.  I lost 1.2 pounds at my last weigh-in, but I won't attend my regular weigh-in Thursday because I'll be out of town.  I have lost some inches since last time I was measured at the gym, and I'm wearing pants that are a size smaller. 
I need to exercise more than I have this week, but I'll be sure to do that so I can look forward to my weigh-in next week.  And I'll miss the awesome people at my WW meeting this week, but I also plan to enjoy this special trip with a big part of my family.  
Life is good when you don't want to leave home because you love it so much. 😉