I enjoy EM:ME because it makes me focus on the good things I'm doing for myself and the good things I should be doing for myself. And this week, Amber is talking about obstacles. If you want to join some lovely and supportive ladies, just go to Amber's blog for details.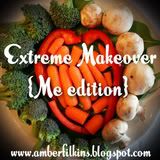 This week's question is:
What is your biggest obstacle right now? How are you making plans to overcome/push forward? 
My biggest obstacle is losing weight. It doesn't seem as easy today as it did 5 weeks ago or 5 months ago. I had been totally satisfied with my progress until earlier this month when I experienced my first gain. I did lose again the following week, but I've been out of town so I couldn't track my progress at last week's meeting.
I weigh in tomorrow, and I'm nervous. I exercised a little while I was there, but I did not do as much as I know I should have done. I also said no to myself many, many times when I craved snacks opting, instead, to keep myself busy.
My trip was fantastic, and I know that whatever happens on the scale tomorrow I'll start from there. Today is always the first day of the rest of my weight loss journey. And I will do my best to eat well and exercise starting now. On that note, I'm off to the gym because I won't give up.  And I won't discount all of the work I've done up to this point. 
What is your biggest obstacle?  And are you winning the battle against it?