It's time for EM:ME again, and this week Amber wants to know about our successes this week.  If you want to join the fun, just click here for details.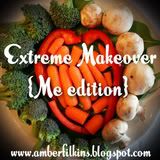 List of Success In The Last Week
At my weigh-in last week, I lost 1.6 pounds
I went on a long walk with a neighbor and our dogs. It was spontaneous, and I was feeling so bad before we did that so it really helped me get back into good spirits. 
I've been riding my recumbent bike a lot which is a little success every time I do it. 
I've eaten well…
My eating habits and exercise have been steady this week, and I hope to see a loss when I step on the scale Thursday.  There's nothing particularly exciting about my little successes this week, but looking at the big picture I think it's fantastic because all of the little things add up to something great.  
I'm feeling confident in my lifestyle and proud.  And that, in itself, is a huge success in my book.